Golden Leaf Indian Sandstone Paving
Available  Sold as a premium colour (buff) under various names Glenmore, Ripon, buff, our golden leaf has a base colour of light honey, tones of buff with some grey and variegated colouration. Golden Leaf is one of our most popular Indian Sandstones.
We have strict colour selection policies in place in India to ensure our golden leaf is the best on the market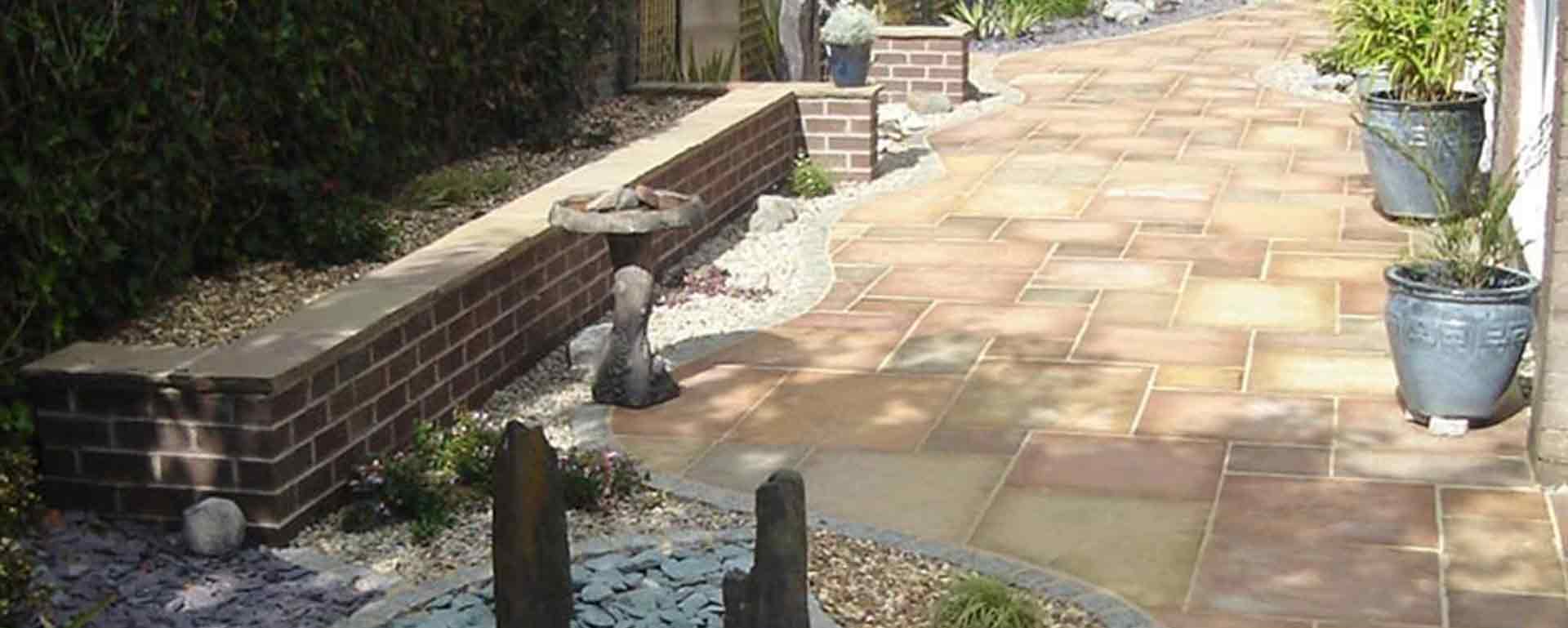 FREE  NO-OBLIGATION QUOTE
Enter your details and we'll call you right back
What is Golden Leaf sandstone Paving?
Golden Leaf is a kind of Indian sandstone, which is the UK's preferred kind of natural stone paving. Golden Leaf is instantly recognisable by its distinct gently honeyed shade, which integrates golds and light browns, in addition to purple or golden veining.
It's one of our most popular kinds of Indian sandstone here at Stunning Landscaping – favoured for its conventional appearance, and its capability to easily brighten its environments, lifting the mood of outside areas. Its flexible style makes it appropriate to almost any garden style scheme, and it's an especially popular alternative for driveways.
Golden Leaf Indian sandstone has a naturally riven texture, but it can be supplied with a smooth sawn surface area or a hand sculpted style, depending upon what you've got in mind for your own area.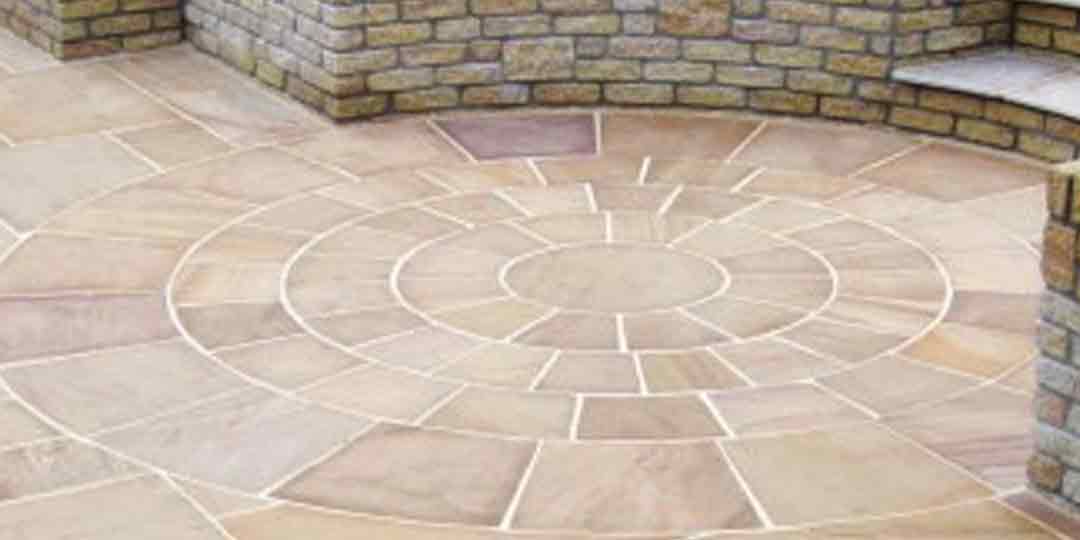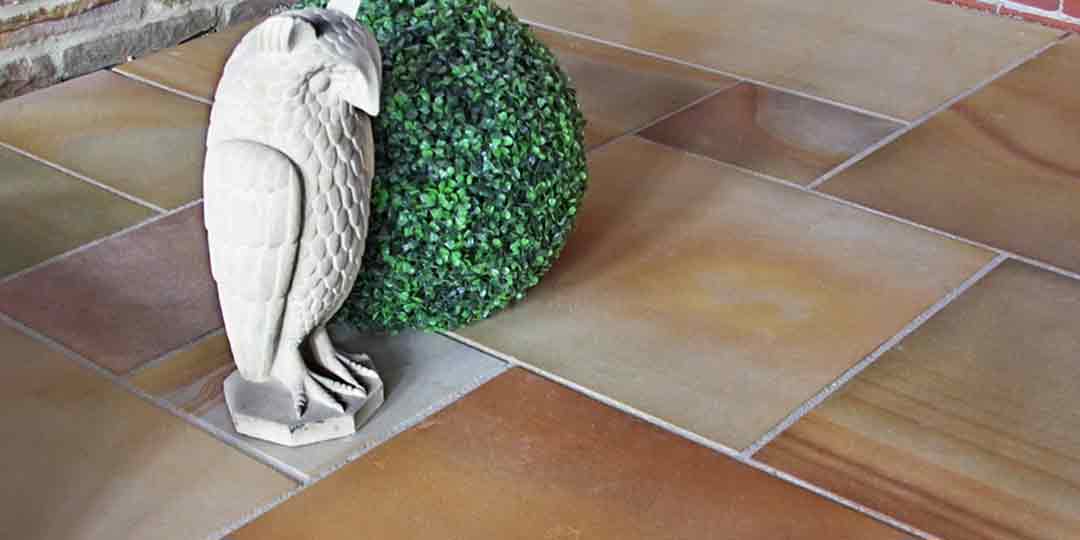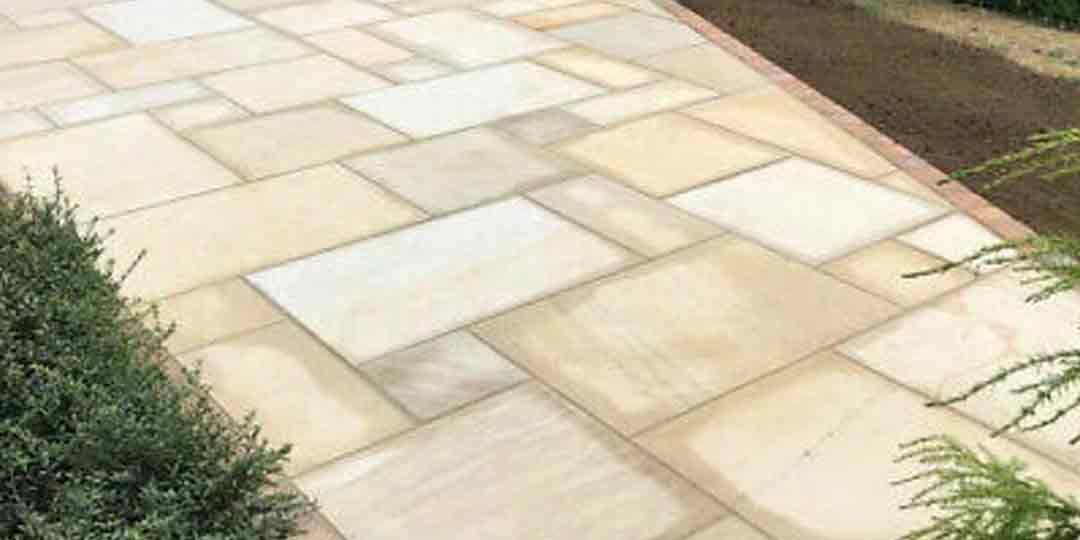 Fill in the form below to schedule a FREE quote.
Should you seal Golden Leaf sandstone paving?
Yes, if you desire it to keep its gorgeous and extremely unique shade. Sealing Golden Leaf Indian sandstone is an efficient and reputable method to protect it from fading.
Here at Stunning Landscaping, we'd advise doing the same for all Indian paving stones, due to the fact that they're permeable by nature. Given that its surface is quickly penetrated by wetness, it can potentially be marked or stained by liquid, unless it's sealed beforehand. Personally, we tend to advise HG Impregnator as a basic treatment, which is the perfect procedure against dirt or grease spots. A Nexus Colour Enhancing Sealant is another highly recommended alternative.
If you ever need any particular advice or in-depth support, whether that's with sealing or anything else, our experts are happy to help.
Why is Golden Leaf Indian sandstone so popular?
Golden Leaf Indian sandstone is extremely popular here in the UK because of its unique gently honeyed shade, which is best for showing sunlight. That makes it an exceptional choice for illuminating your space, making it feel more pleasant and vibrant – particularly in the summer season!

It's the ultimate choice for outdoor environments and driveways surrounding lawns and other green areas, as its golden shade complements the green to develop a splendidly peaceful, nation garden feel.

Like all other Indian paving pieces, Golden Leaf weather conditions naturally under the components, causing its tones to end up being slowly richer and more beautiful with time – providing your outdoor space a sensational appearance and an extremely distinct appeal.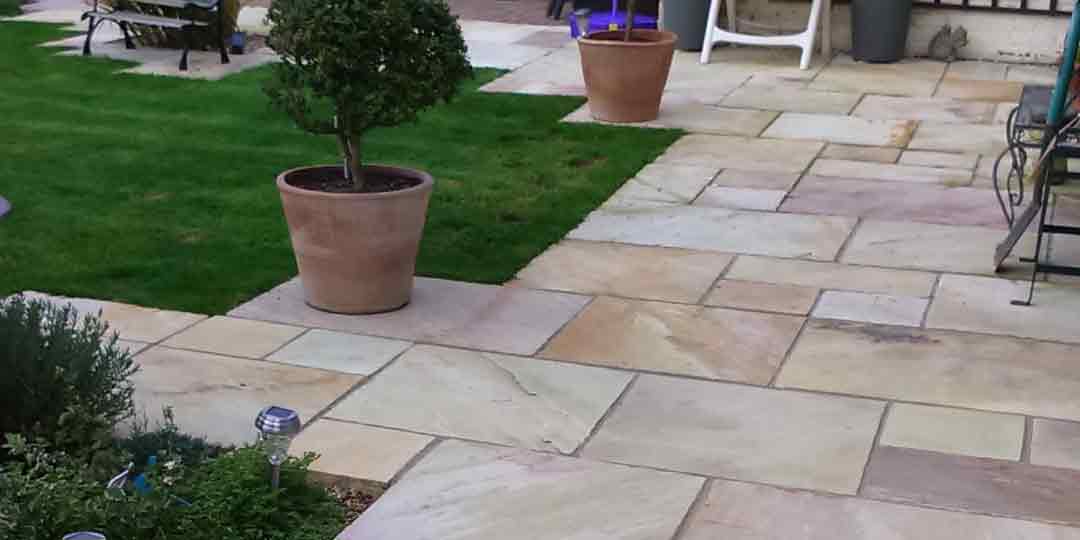 It's long and long lasting enduring, 

so as long as it's

 correctly sealed, it's more than efficient in withstanding 

the worst rainy, frosty or stormy conditions, all the while adding value to your

 residential or commercial property over its lifetime.

Its cheerful, peaceful appearance makes it an indispensable design element for creating a lovely space in which you can kick back and relax.

It can be organized into a variety of designs and patterns, 

so you can match it to the look of your property, or get

 innovative to produce a unrivalled and distinct search for your area.

It's 

very easy to maintain. In fact, as long as it's been properly sealed, you

 ought to have next to no concerns with eliminating dirt and grime.

It's eco friendly. There are less destructive chemicals involved in its production 

process compared to some other types of paving stones, and it can be recycled at the end of its

 life expectancy. 

(Don't forget to check that yours is ethically

 sourced!).

It's widely readily available and affordable, so you can always rely on getting great value.
It's porous, which indicates that its lovely 

colour is vulnerable to stains and marks from liquids, bacteria or mould.

 Nevertheless, if the sandstone has actually 

been properly sealed, that effectively negates these

 threats.

I

t's 

naturally rough. Indian sandstone is 100% natural, so certain types can be a little bit rough on bare

 feet.

It 

can be marked. Indian sandstone is a

 reasonably 

soft kind of stone compared to some other options on the

 marketplace. That implies that it can be quickly scratched or damaged by significant weight or sudden effects, such as patio furnishings 

being dragged or dropped on it. However, as long as you're

 mindful 

to avoid this, you shouldn't

 need to fret 

about much else – it's otherwise

 extremely resilient!
Fill in the form below to schedule a FREE quote.
Stunning Landscapes
25 Hamer Street,
Bury,
Manchester,
M262RS