Patio and paving installation by Manchester's landscaping Team.
Greater Manchester pavers for new patios and paths.
When done right a new patio or paved area can completely change a space and add so much more value to your property. It's a nice space to spend time with the family, park the car, or simply improve the outside space.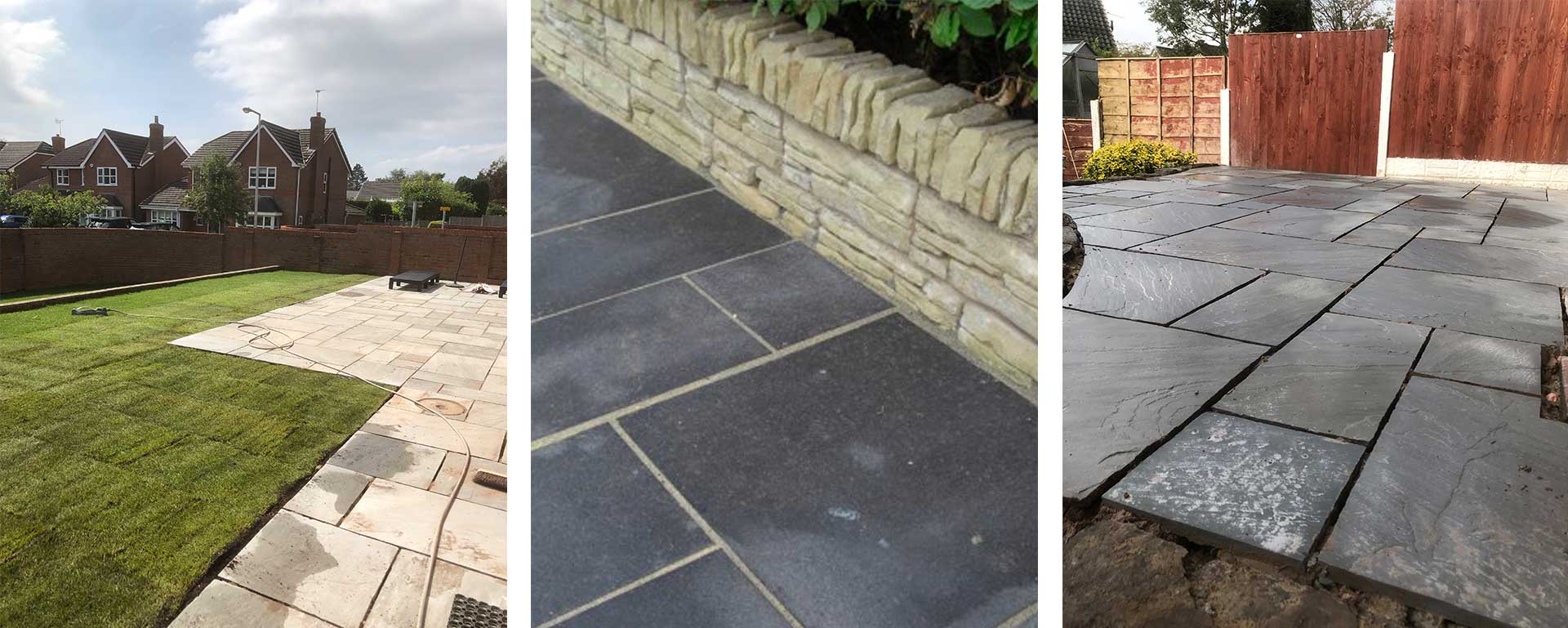 FREE  NO-OBLIGATION QUOTE
Enter your details and we'll call you right back
Patio and Pavers in Manchester
Whether you are a homeowner looking to improve your garden or you are a landlord and want to make your property more attractive, paving and patio is a great option. Having a patio leading out from the rear of your property on to the rest of the garden opens up so many possibilities that you simply didn't have before.
With many different options including the popular Indian Stone, Block Paving and many more there really is something for every style and budget. Our friendly team will talk you through the possibilities and the steps involved from rip out to finally sealing your new patio.
Most customers have also seen the value of there house increase after we have completed a project.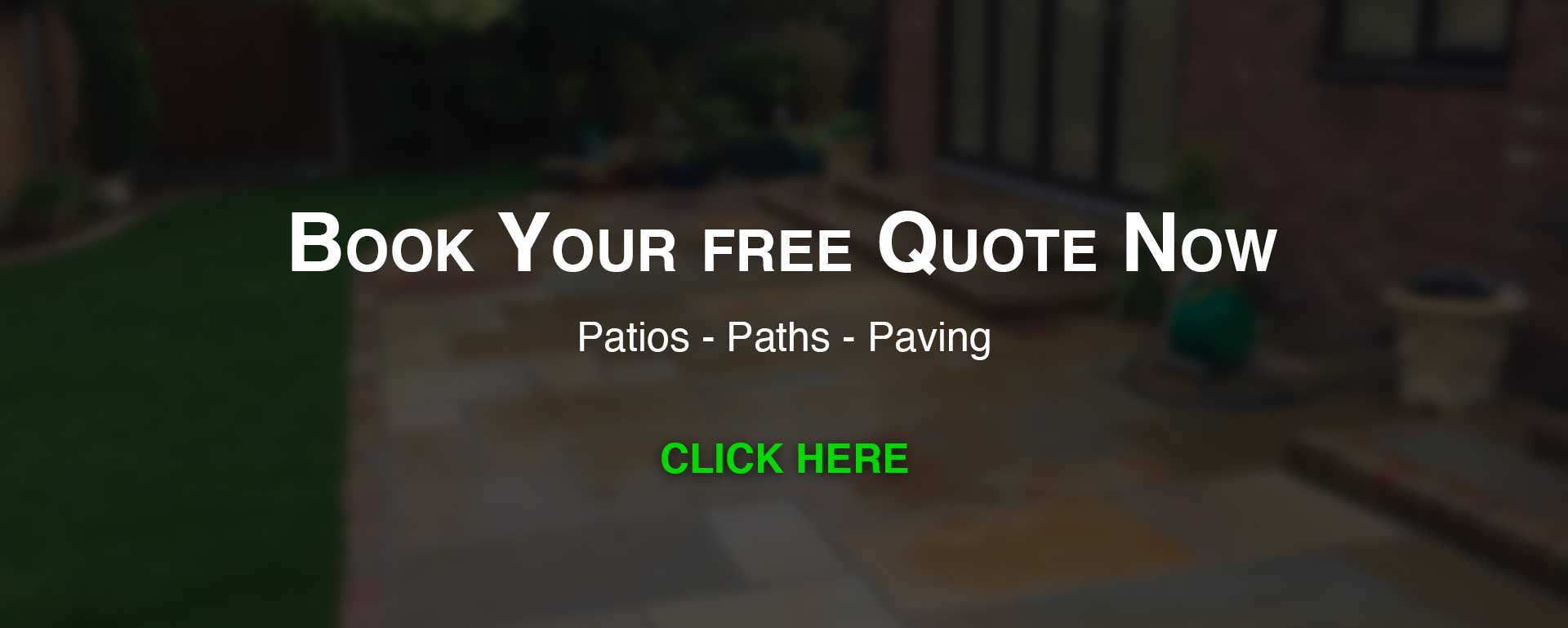 Types of Patio and Paving we offer
Our team will visit the outdoor space you would like paving to assess the area and talk you through the various finishing options as well as recommended what best suits your needs.
We will then send you a completely transparent quote through email that will outline all the work that will be done, in what timeframe and a breakdown of price.
Should you choose to go ahead with the quote our experienced team will turn up on the agreed date as well as sending you a text 30 mins before they arrive and carry out the work.
FREE  NO-OBLIGATION QUOTE
Enter your details and we'll call you right back
Types of Patio and Paving we offer
More about patios from the blog
Zoning your Patio area Interior decoration is mainly regarding circulation: you desire the spaces...
The word Patio originates from Spain and is typically used for dining or recreation that adjoins directly to a house or property, in the UK they are often used as areas to entertain and relax in the evenings. The most popular type of Patio is Indian Stone as it comes in a variety of colours, finishes and is affordable. You will find it in every type of property from a 2 bed terrace to a £1,000,000+ house, it really is the must have.
Having said that a patio can be done in any stone or brick you wish from simple concrete slabs that you find in older houses to block paving, right the way up to big procaine paving. The key to a great patio that looks the part and will last for many years is in the groundwork preparation and sub-base.
Our team, based in Bury have decades of experience laying patios big and small. They are friendly, knowledgeable and follow all building regulations to ensure you get the best looking patio that will last.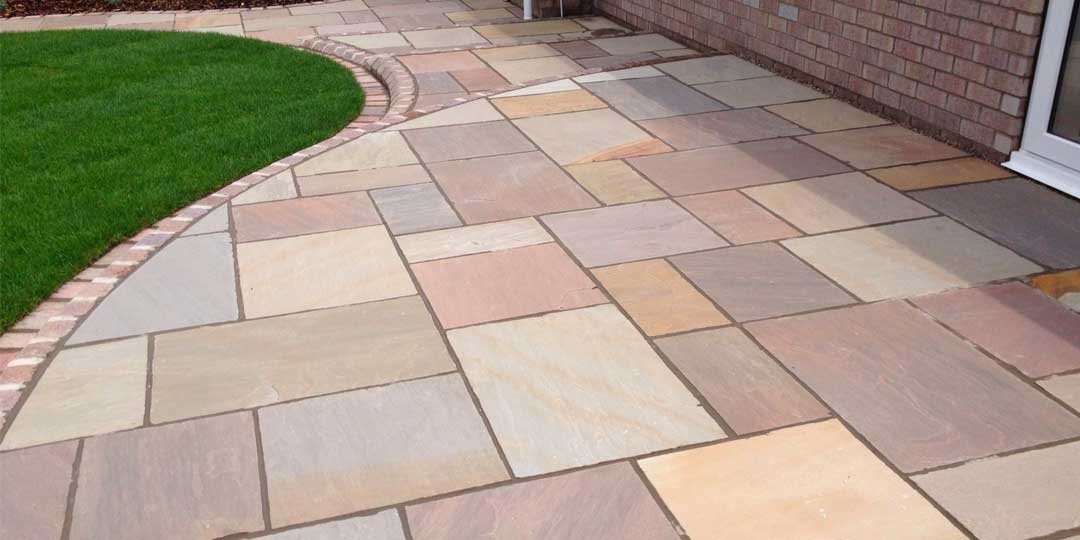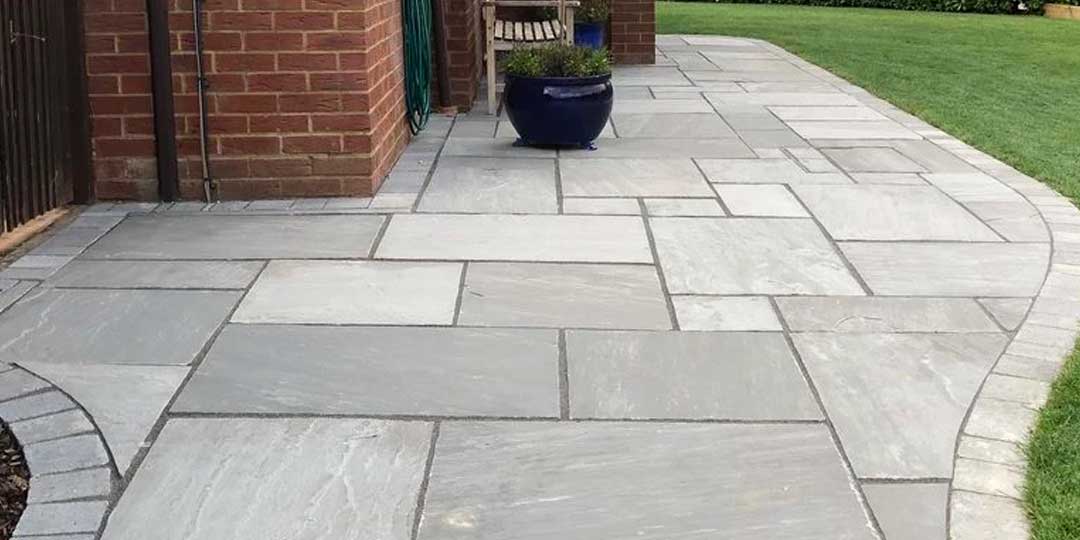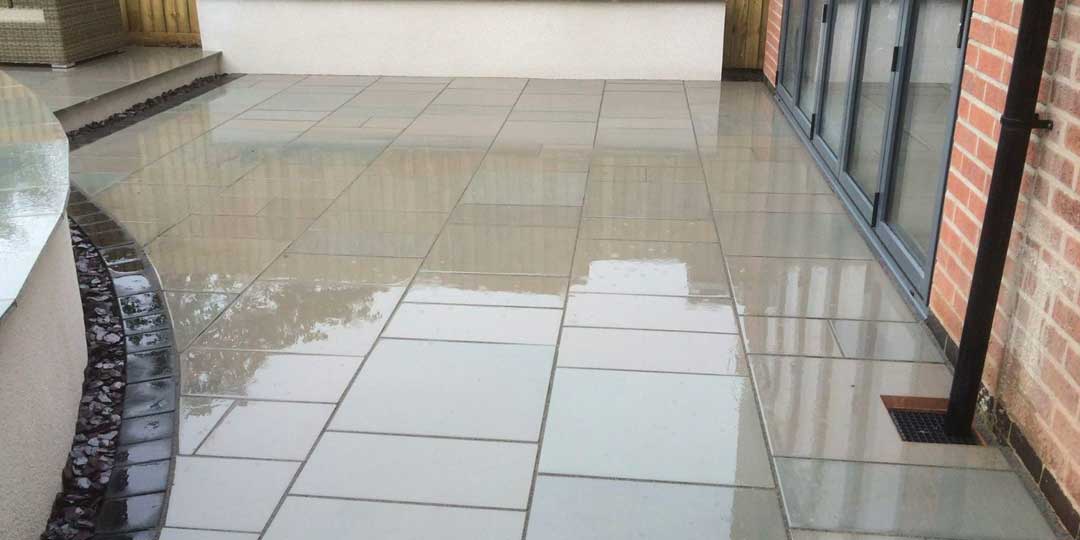 Perfect Paving for your house or property
Paving and patios are almost identical in the materials used and how they are laid, the only real difference is the location. As previously mentioned a patio is adjoins a property, usually to the rear and paving is laid anywhere else on but the drive.
Typically they only need to support foot traffic most of the time as they are usually found down the side of a house connecting the front to the back, so the sub-base does not have to be as deep. You can have your paving follow on from your patio using the same materials or you can go for a completely different design and patter. The choice is yours.
Good paving will improve the flow of your outdoor area, create the illusion of space and provide good ground support to all that use it.
The subbase to a patio, path or paving is the layer/layers of aggregate that the mortar and subsequent paving tiles or blocks sit on. It is there to act as the main load-bearing layer of the area. Its role is to spread the load evenly.
The thickness of subbase can range from 75 to 100 mm (3 to 4 in) for garden paths through 100 to 150 mm (4 to 6 in) for patios and high traffic footpaths right the way through to 150 to 225 mm (6 to 9 in) for a driveway.
A subbase is typically made up of Type 1 MOT stone, sand and mortar. It is essential this is done to the correct depth and with the right materials, otherwise you will encounter problems further down the line.
This is where a large part of the cost comes from when having a patio done as it requires diggers, tonnes of waste disposed of, tonnes of sub base going in and man power.
Why is my patio sinking in places?
Patios and paving can be susceptible to sinking over time, there are a lot of reasons for your patio to sink, and knowing why it's happening is really important. So, if you are looking out of your window and see a dip, here are a few of the main reasons.
Little or no subbase.
Yes read that correctly, all too often we have been asked to complete a repair job only to pull up the affected slab and find there is a thing layer of sand supporting the patio and nothing else! This can happen when the area has been laid by a paver who does not know what they are doing or is cutting corners. In this case, the whole patio must come up and the correct subbase put it place.
Erosion.
This does not happen to every patio or paving laid but in some cases, the ground below the subbase can move. As it is naturally soil and earth this may happen due to water running through the ground and over time taking parts of the earth with it. This is not a big problem and the subbase simply needs re-setting or topping up in the problem area.
Roots.
More often than not, if it is indeed roots that are causing your patio to dip or move it is from a plant next door. Typically it will be the root of a tree, as the root system can grow to be twice as big as the canopy. It's not uncommon for your neighbor to plant a tree and a few years down the line as the root system develops you notice a change in your path or patio. It is, for this reason, we do not recommend planting trees or large bushes next to your patio/path or fence line.
FREE  NO-OBLIGATION QUOTE
Enter your details and we'll call you right back
Is standing water on my patio normal?
Nothing spoils a relaxing time on your patio like rain and with Manchester getting an average of 929mm of it each year, the opportunities you do get to enjoy your garden are precious. So, the last thing you want to do is step outside into a big puddle on your patio!
Standing water on a patio or path is a serious problem and it's not just the discomfort of wet feet that you have to worry about, sitting water can hang around for a long time and this could mean an early end to your patio or path altogether. It could also lead to a whole host of other hazards such as ice, mold, interior damp, and much more.
There are a few core reasons why your patio may have sitting water:
Insufficient runoff or fall

Other water being deposited on to the patio
Wrong choice of materials
There is a solution to all these problems and our team can help but it is vital you correct sitting water as soon as possible.
Why are there weeds in my patio? 
On paper, weeds should not appear on your patio but from time to time this does happen, it is usually because a bird has dropped a seed when flying over or one has fallen from the bottom of your shoe.
If you see a weed appearing you should remove it straight away before it becomes a much larger problem. It is also recommended that you apply a weedkiller twice a year for maximum protection.