Turfing and Artificial Turf Landscaping.
Landscapers for new turf, re-turfing, and artificial in Greater Manchester.
We have the best turfing team in the North and some of the most competitive prices around, there isn't a project our highly trained men and women can't do. Customer service and quality are at the heart of our company.
Fill in the form below to schedule a FREE quote.
Turfing Specialist in Manchester
The right turf, expertly laid can change your whole garden from a space you were once embarrassed to look at to the talking point of your home. There is a lot to consider when choosing the right type of grass for you, such as do you want a high-end turf, do you have pets, will you walk on it, do you want to play on it, and so on.
Located in Pilsworth, right next to the M66 our team can be anywhere in Manchester within 30 minutes. They will talk you through the different types of turf available, advise what is best for your garden and needs as well as provide a free, no pressure, and no-obligation quote.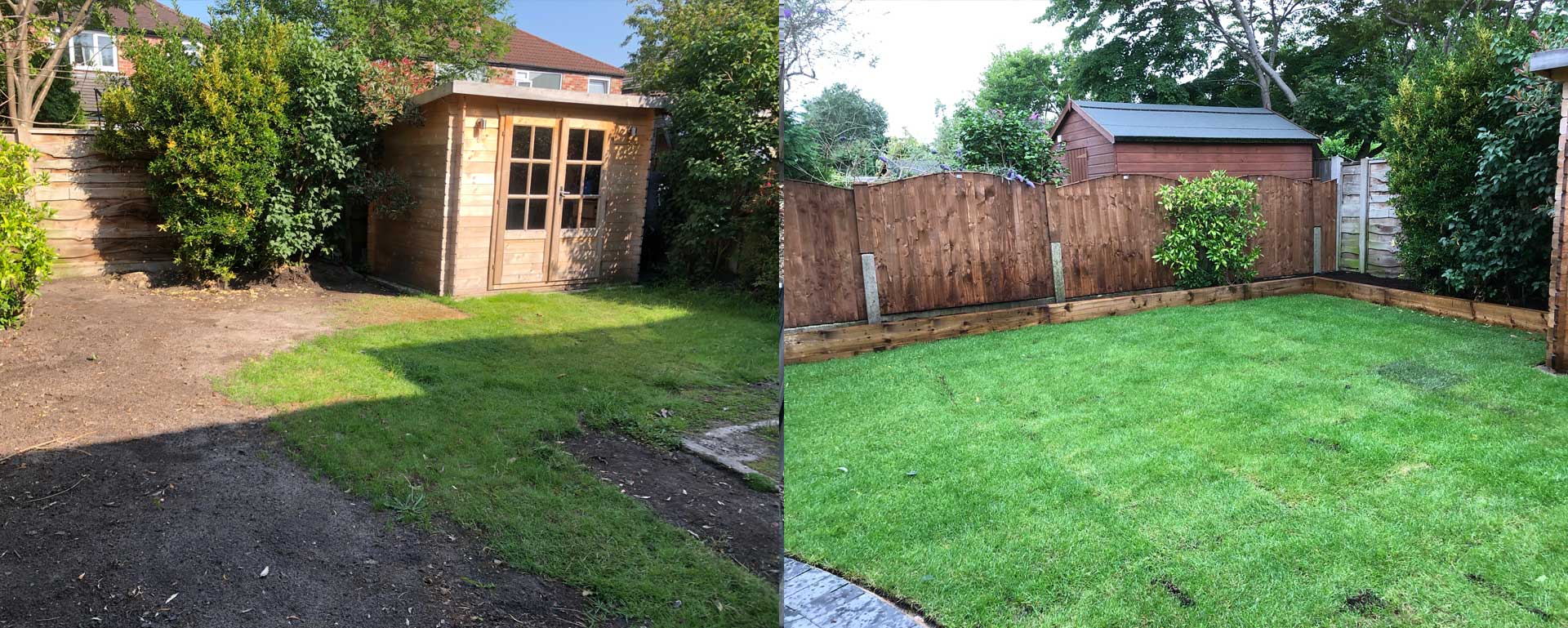 Turfing & Artificial Turf in Manchester
– Re-Turfing
– Artificial Grass
– Low Maintenance
– Cheap Turf
Our team will visit the outdoor space you would like turfing to asses the area and talk you through the various turfing options as well as recommended what best suits your needs.
We will then send you a completely transparent quote through email that will outline all the work that will be done, in what timeframe and a breakdown of price.
Should you choose to go ahead with the quote our experienced team will turn up on the agreed date as well as sending you a text 30 mins before they arrive and carry out the work.
Fill in the form below to schedule a FREE quote.
For many of us having the dream garden starting with having a lush, green lawn that is worthy of a bowling green. All too often this is not what you see when you look outside your window, the average domestic lawn has suffered years of abuse from children, water damage or weeds. This can lead to a lawn that better resembles a wild field rather than the lawn you dream of.
When this happens it is often best to simply pull the old turf up and start fresh, it can often be a good idea to consider real turf if you have just recently moved in to a new build property. Our team of experts can remove your old lawn, level the ground using a unique mix of  high quality bedding soil and grit sand and lay the turf that is right for you.
It is a common misconception that "grass is just grass" when in-fact there are many types of grass seed and various grades of turf that range from budget, to hardwearing, all the way to sports pitch quality. Our team will be on hand to talk you through the various options and advise what is best for you.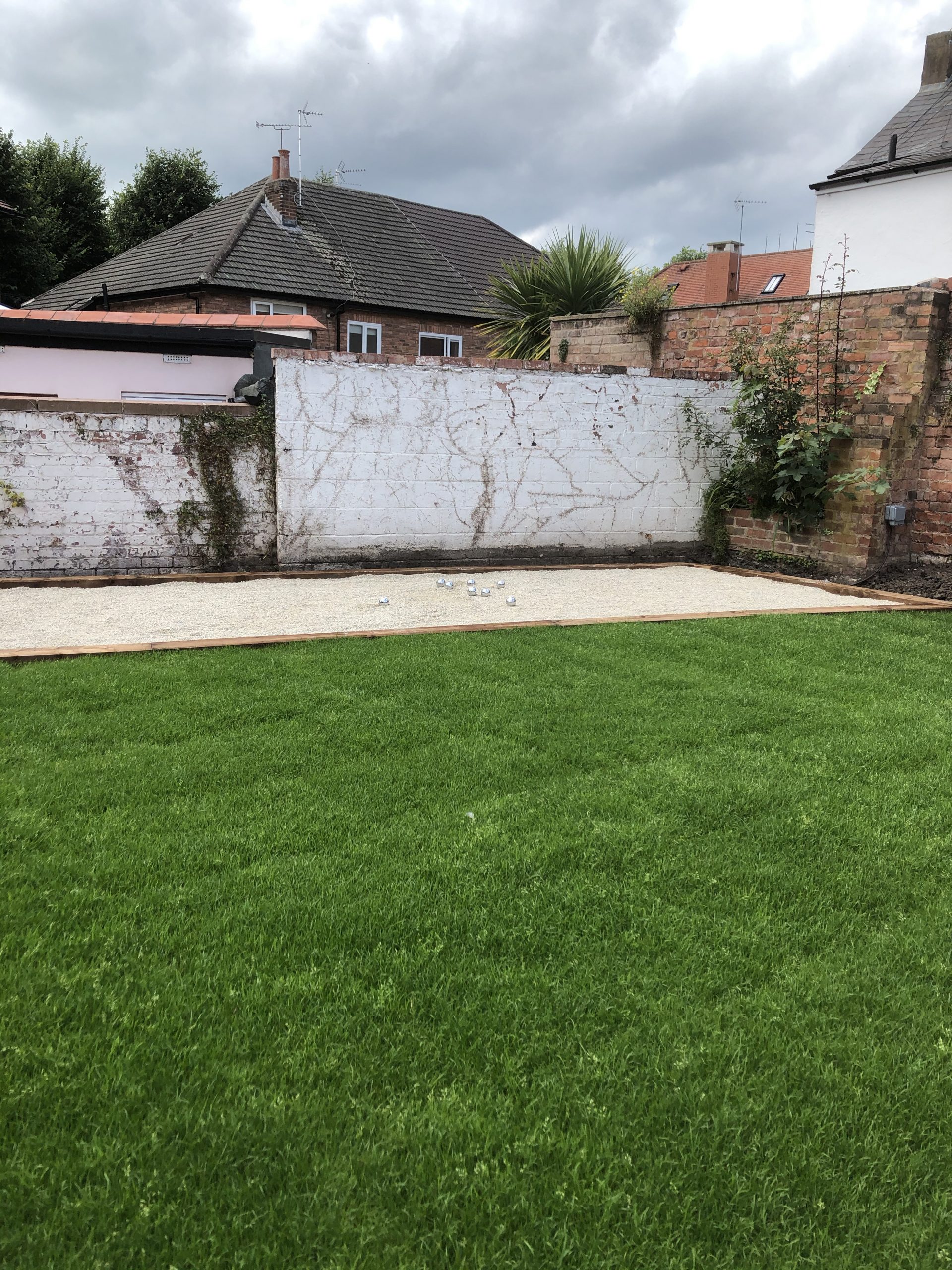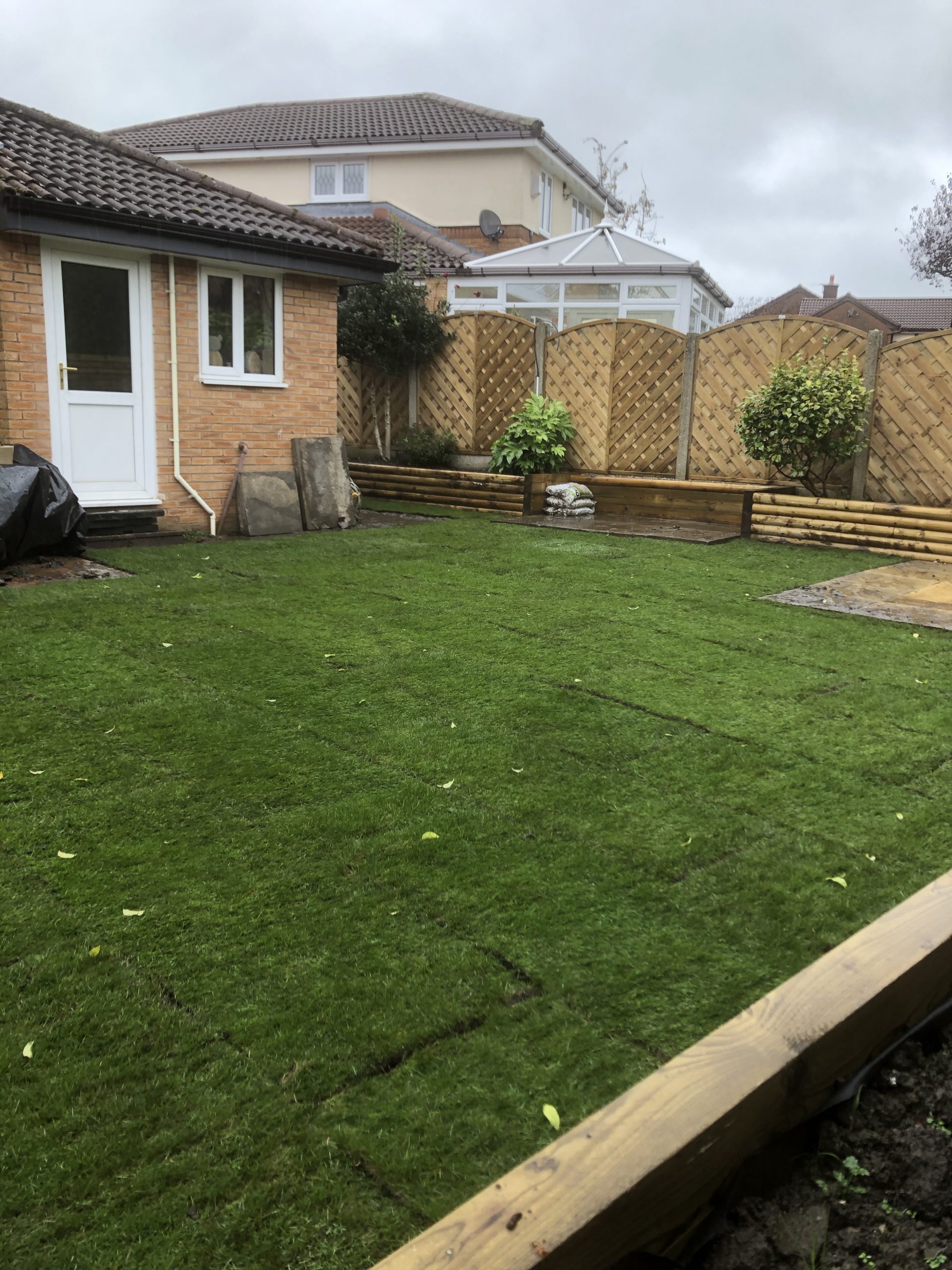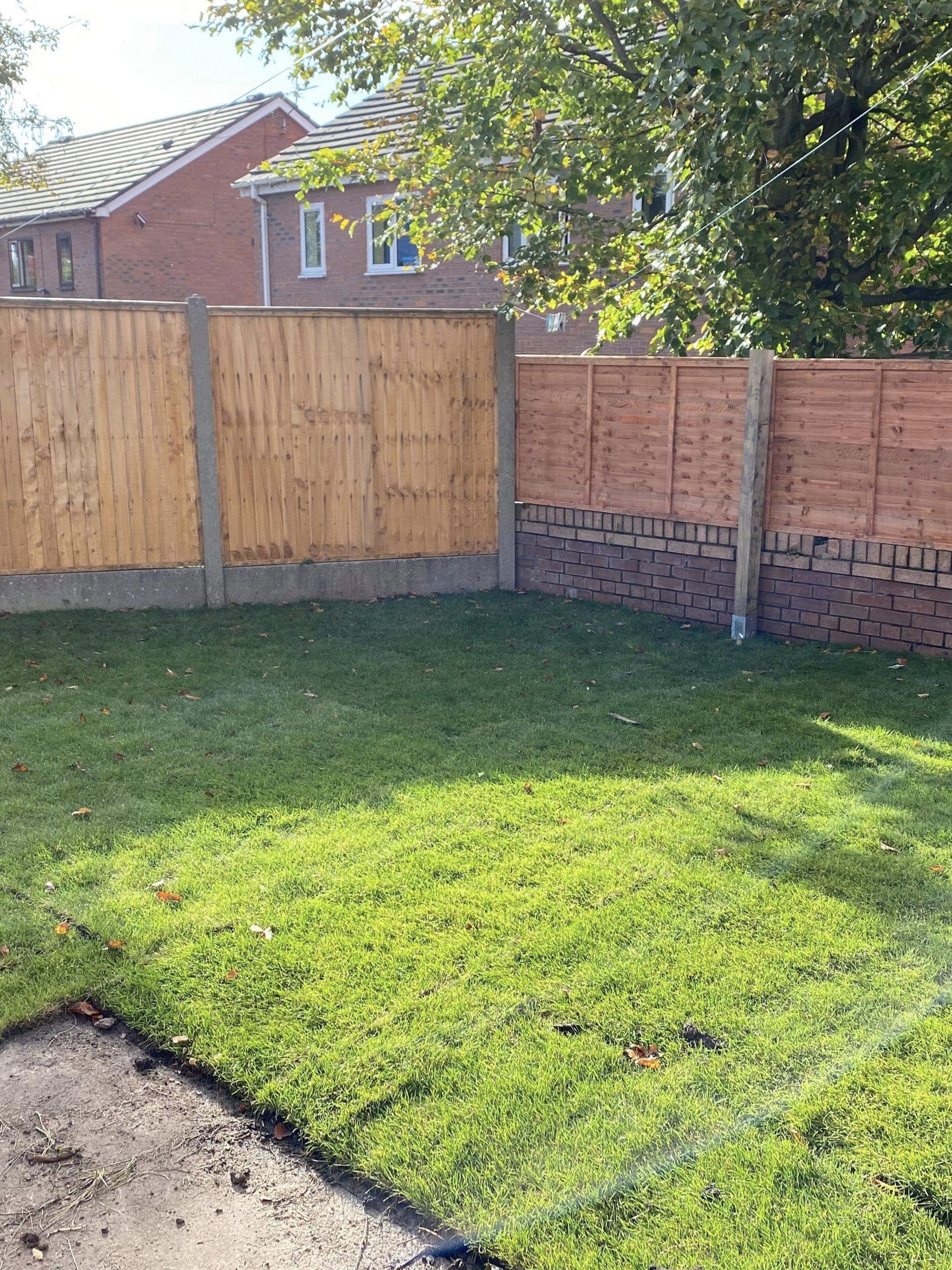 More and more homeowners in the UK are turning to Artificial Turf as a low maintenance, high impact alternative. With this explosion in popularity the options have grown and you can now have any type of lawn you want without the upkeep and hassle of the real thing.
With a turf for every budget, artificial lawns have become really popular with families due to there child safe features and hard wearing characteristics. Whereas with real turf you have to wait weeks before you can walk on it, artificial can be used within an hour of being laid.  
Our team often completes artificial jobs within 2 days due to the speed in which it goes down once the ground is prepared. Not only do you benefit from a long last product that goes down quickly but you also have less mess during the fit process.
All of this paired with our expert team make Artificial Turf a very appealing option for many.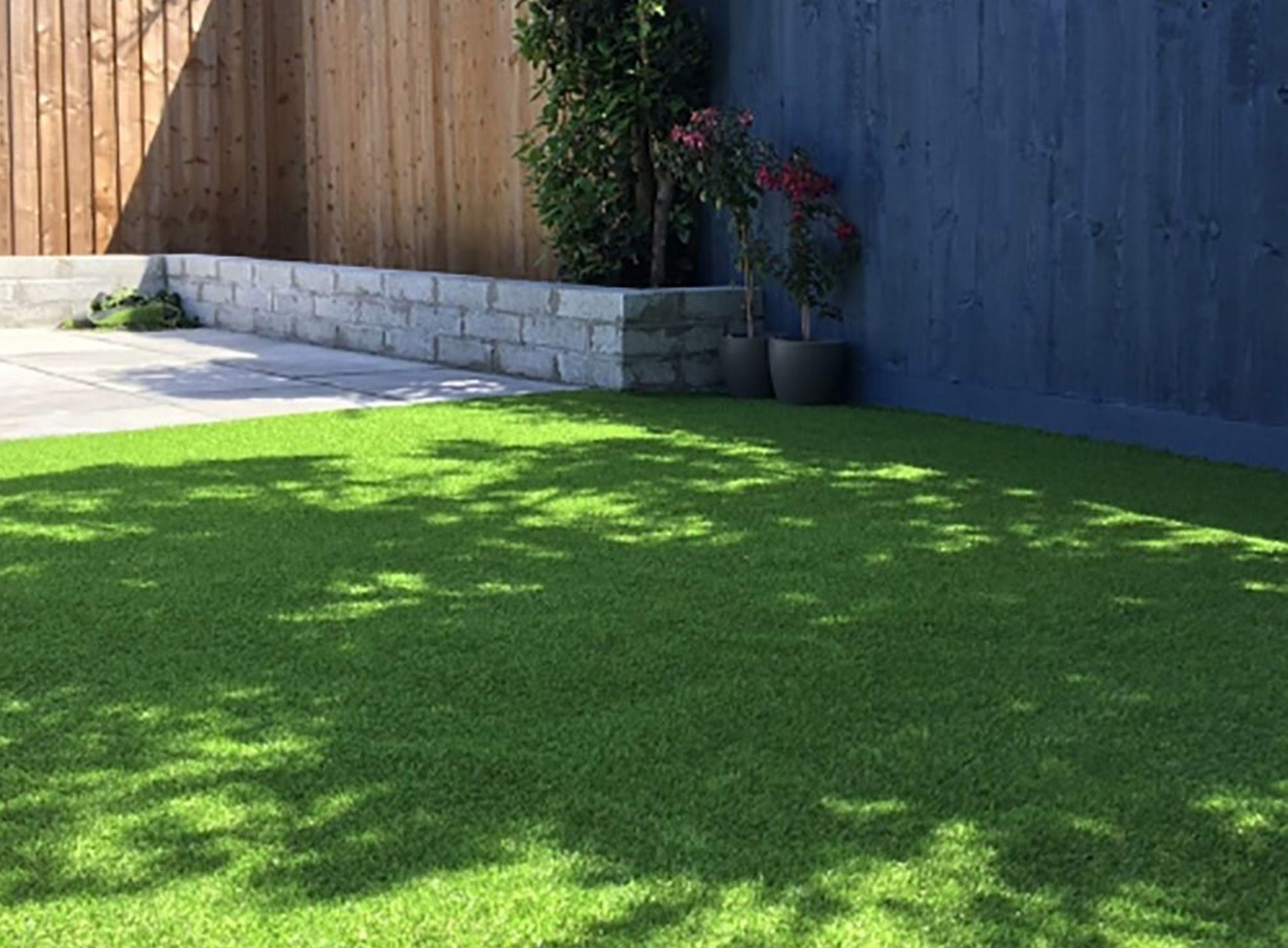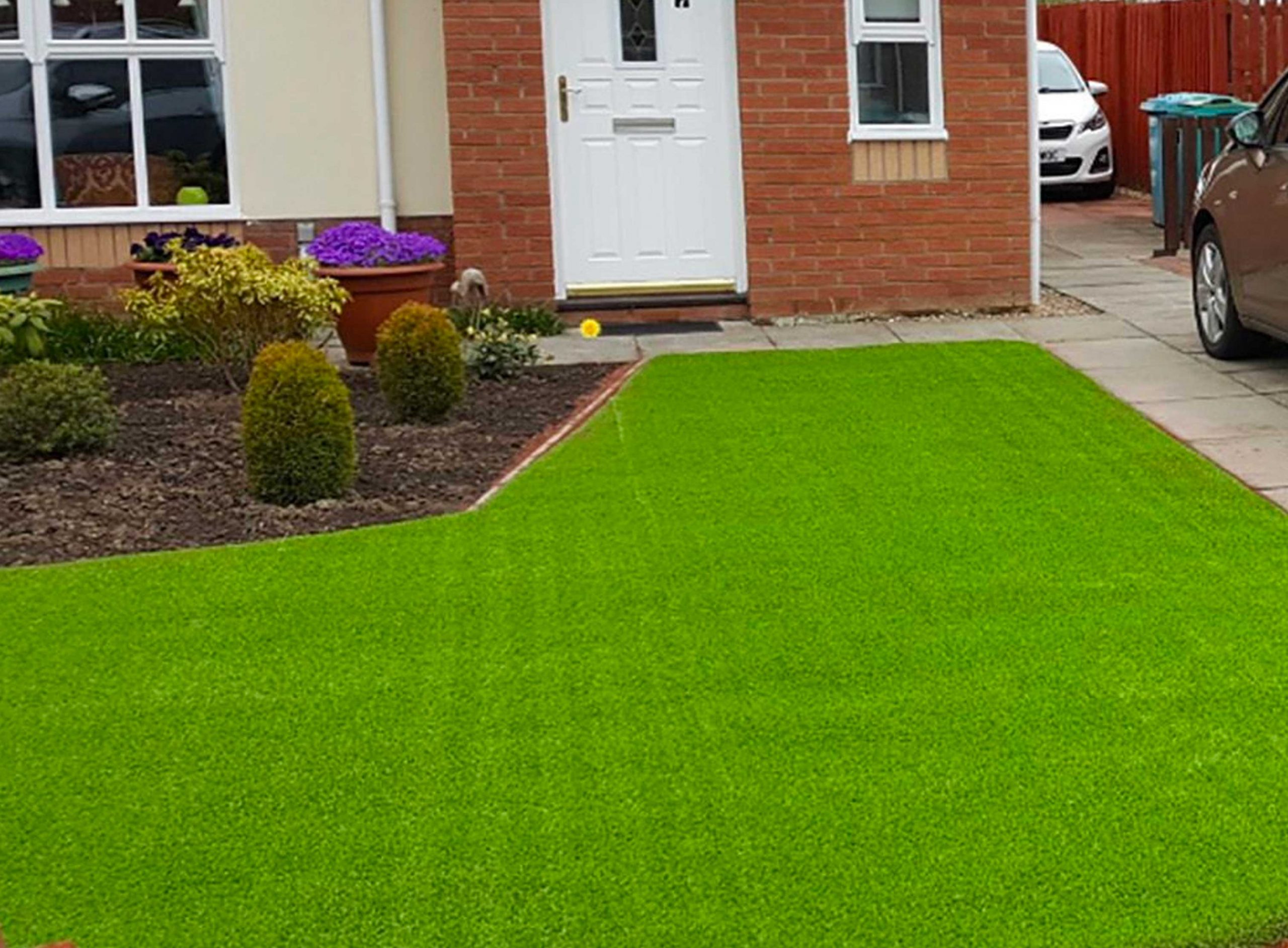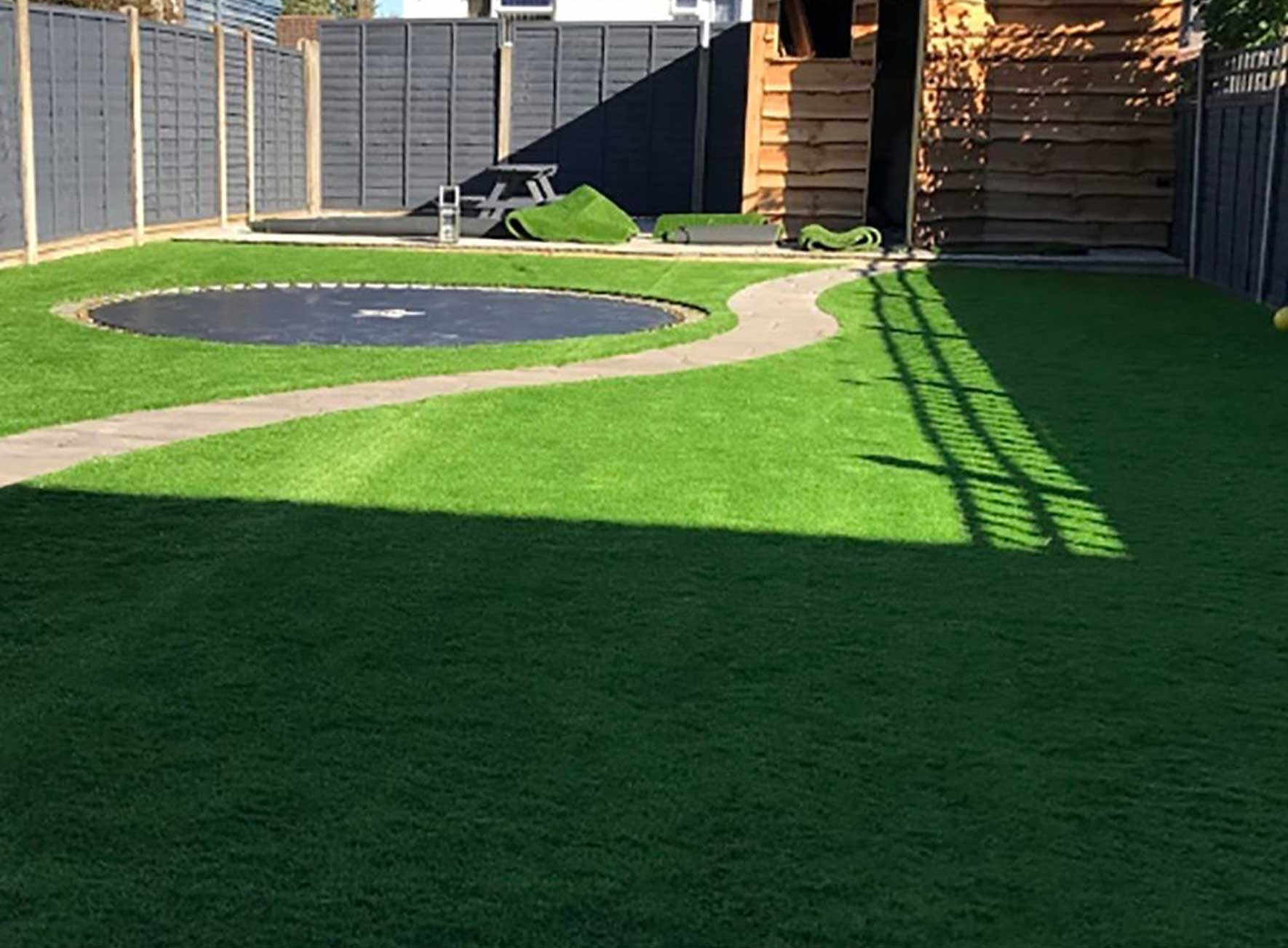 My lawn keeps flooding, how can I solve this?
A waterlogged or flooded lawn is usually caused by a few key issues in the soil, it happens when water can not find a way to drain through the soil. Instead it sits on the surface causing damage to your lawn and making your garden unsuable. 
Compaction is a common rason for this, compaction usually occurs in high traffic areas such as pathways or area of the garden used the most. It is when the soil is constantly compressed together and there is no space inbetween the dirt for the water to drain. 
When is it time to consider a new lawn?
There is not a perfect time of year to consider a new lawn or artifical turf, however, there are a few good reasons to do so. 
Real Lawn
You may want to consider a real lawn or turf when the grass you have now has been taken over by weeds such as creeping buttercup or is thick with moss and thatch. Common issues like this can be a real problem for the average homeowner and a new lawn is a much quicker solution. 
Artifical Turf
Artifical truf is great as it can be laid all year round and is often favoured by families, those with pets and people looking for a low maintance soloution without loosing the green in there garden.
How long does it take to lay my new grass?
This is a question we get asked a lot and we break our turfing process up in to 3 stages to give you a better understanding of what is involved. Stage 1: Removal of old turf, Stage 2: Ground preparation and finally stage 3: Laying the lawn.
For a typical UK lawn (92m2) we would estimate around 2 days, this allows our team enough time to properly prepare the ground to ensure your new lawn thrives in your garden.
I want a low maintance garden that still looks nice, which turf is best for me?
A low maintance garden that looks fantastic all year round is a request we hear more of in the past couple of years and knowing if real turf or artificial is better for you is important. It all comes down to how much do you want to be involved as there is upkeep with either, you can tend to a real lawn once a week and still have it looking good but this does depend how often it is walked on, if you have pets and much more. Whereas, if you simply want to have to tend to it for maybe 1 hour of the year then artificial is much more advisable.
How much does it cost to lay real turf?
A lot of the cost and time is in the groundwork, as it is with most landscaping and garden projects. It's imperative that the ground is prepared correctly to ensure your new lawn takes as quickly as possible. Pulling up the old turf, preparing the ground, adding a special blend of soil and sand, applying PTF (Pre-Turf Fertiliser) and, suppling and laying the new lawn you can typically expect to pay around £20 per meter.
How much does artificial turf cost?
With the rise in popularity of Artificial Turf and the flexibility in manufacturing, a wide variety of designs have been developed to suit any budget. You will find it is more expensive than a traditional lawn but there is far less upkeep involved. There is still groundwork that has to be done but a large portion of the costs involved are down to the AstroTurf itself. Depending on the type of turf you want you are typically looking at between £65 to £85 per meter.
Fill in the form below to schedule a FREE quote.
Stunning Landscapes
25 Hamer Street,
Bury,
Manchester,
M262RS