KANDLA GREY INDIAN SANDSTONE PAVING
 Kandla Grey Indian Paving is commonly referred to as Blue Grey, the colour is consistent with that of a silvery grey. Kandla flags are ideal for outdoor patio areas where a contrast in colour is required. 
The most popular of the Indian Sandstone flags, it gives a stunning finish that is on par with more high end products.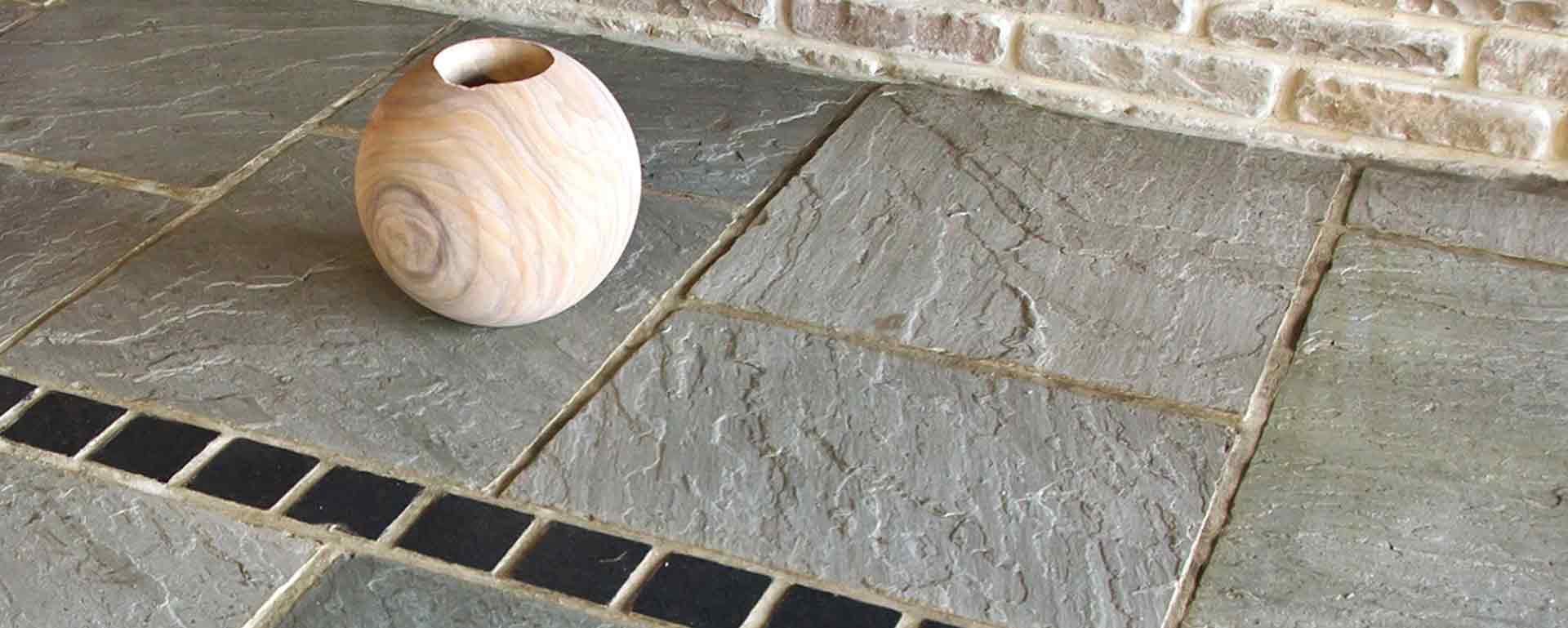 FREE  NO-OBLIGATION QUOTE
Enter your details and we'll call you right back
What is Kandla Grey sandstone Paving?
Kandla Grey is one type of Indian Sandstone, in recent years Indian stone has become the UK's most popular choice of natural stone paving for outdoor spaces. This specific type of grey has a gentle blue/grey tint to it.
It is often chosen by customers for it's modern looks, ability to create contrast in the garden and high-end "wow" factor when finished. It is also one of the few Indian Sandstones that has an almost completely consistent colour throughout all the slabs.
Like all other froms of Indian Sandstone, Kandla Grey has a naturally rough texture on all sides and edges, this is related to the method in which it is extracted from the quarry. However, it can be supplied with a smooth saw surface or hand-cut, depending on your idea.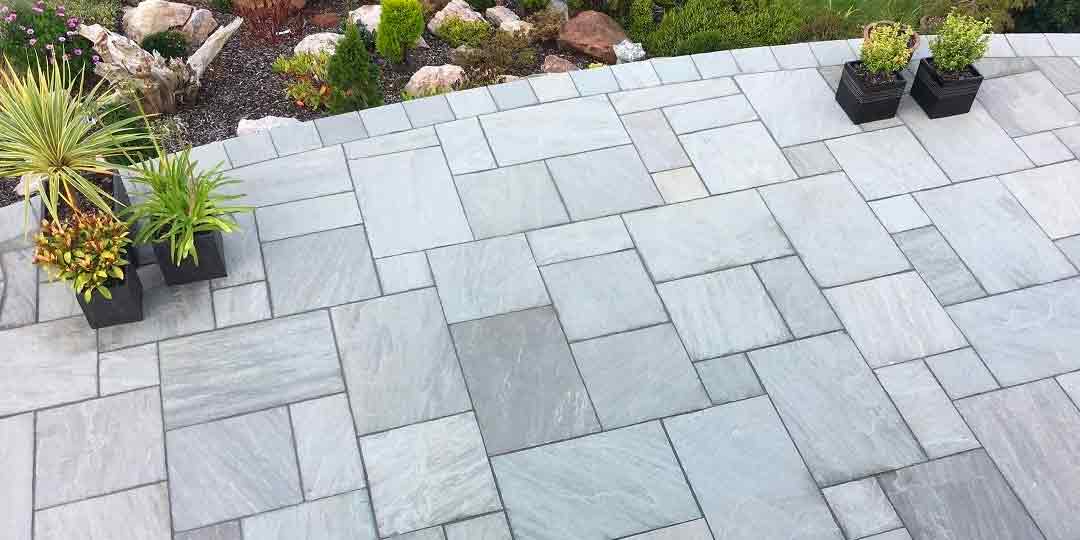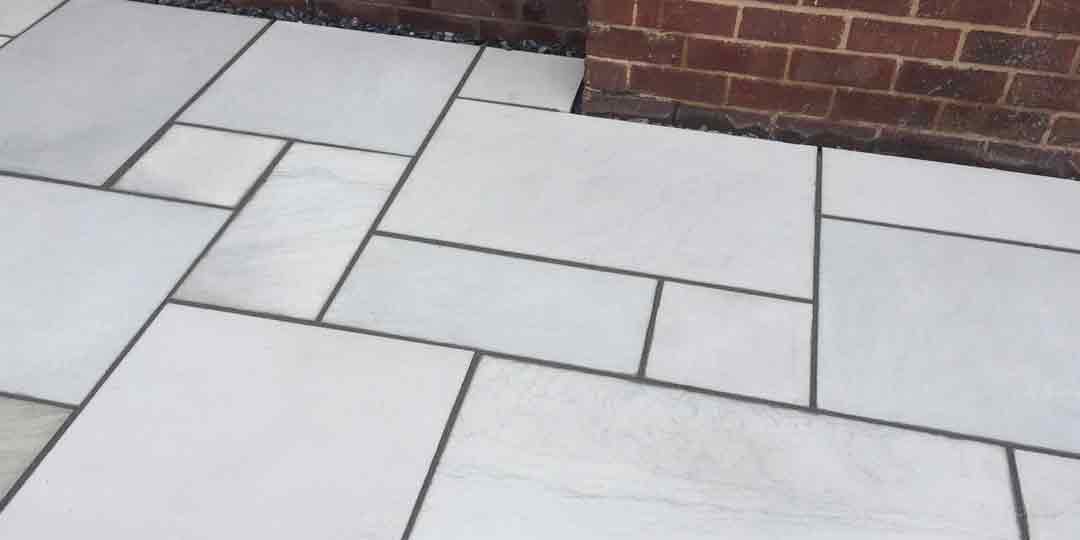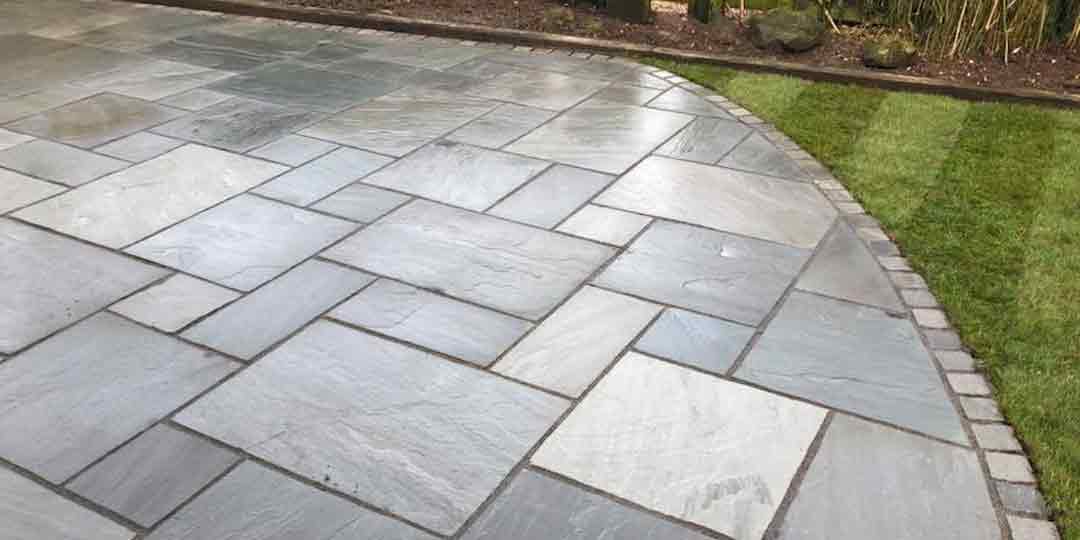 Fill in the form below to schedule a FREE quote.
Should you seal Kandla Grey sandstone paving?
Although not essential, here at stunning landscaping we would always recommend choosing to have your Kandla Grey patio sealed as soon as it is laid.
By design Indian Sandstone is a porous material, this means it will absorb water. Should a glass of red wine or any other stong liquid spill on an un-sealed sandstone patio then it will absorb it and stain. If you are looking to keep your patio in pristine condition then you must seal it.
Is Kandla Grey sandstone good for paving?
It is true that sandstone paving can be used for both indoor and outdoor spaces but it does in fact make excellent paving and is more commonly used outdoor. This is due to the consistency of the colour and the smart, uniform look it gives to an outdoor space. The grey provides a colour contrast from the usual greens found in the garden and when it gets wet as it often does in Manchester it looks even better with a unique style. 
It's durable and long lasting, capable of withstanding heavy rain and frosty conditions, while steadily adding value to your property over their lifetime
Its beautiful appearance. Kandla Grey Indian Sandstone is famed for its mix of soft, light blues and mellow greys.
It can be made into a wide variety of patterns and designs, allowing you to match it to the look of your property, or show off your creativity with a whole new look for your space.
It's easy to maintain. Once grey Indian sandstone is sealed, removing dirt and grime should pose no problem.
It's eco-friendly, as there are fewer damaging chemicals involved in its manufacturing process, and it can be recycled at the end of its lifespan. (But don't forget to check that yours is ethically sourced!)
It's affordable and widely available, so you'll always get great value.
It's porous, which can vulnerable to stains and marks from liquids, bacteria or mould. However, this can be avoided as long as it's been properly sealed.
Its roughness – Indian sandstone is 100% natural, so certain types can be a little rough on bare feet.
It can be marked – like all Indian sandstone, Kandla Grey Indian sandstone is a relatively soft type of stone compared to certain other options on the market. This means that unless care is taken around it, sudden hard impacts can cause visible scratches and other marks relatively easily. However, as long as you're not dragging or dropping anything heavy on your grey Indian sandstone, you shouldn't have to worry about it too much.
Fill in the form below to schedule a FREE quote.
Stunning Landscapes
25 Hamer Street,
Bury,
Manchester,
M262RS