Concrete patio slabs and bases supplied and fitted in Manchester.
Concrete slabs are a popular budget choice in Manchester and beyond as they come in significantly cheaper than other options and a wide variety of finishes. 
Sometimes most of your budget has gone on other parts of the garden and you are just looking for a finished patio that looks nice. Concrete slabs and patio options are a fantastic choice in this case, with something for everyone at an affordable price, you can't go wrong.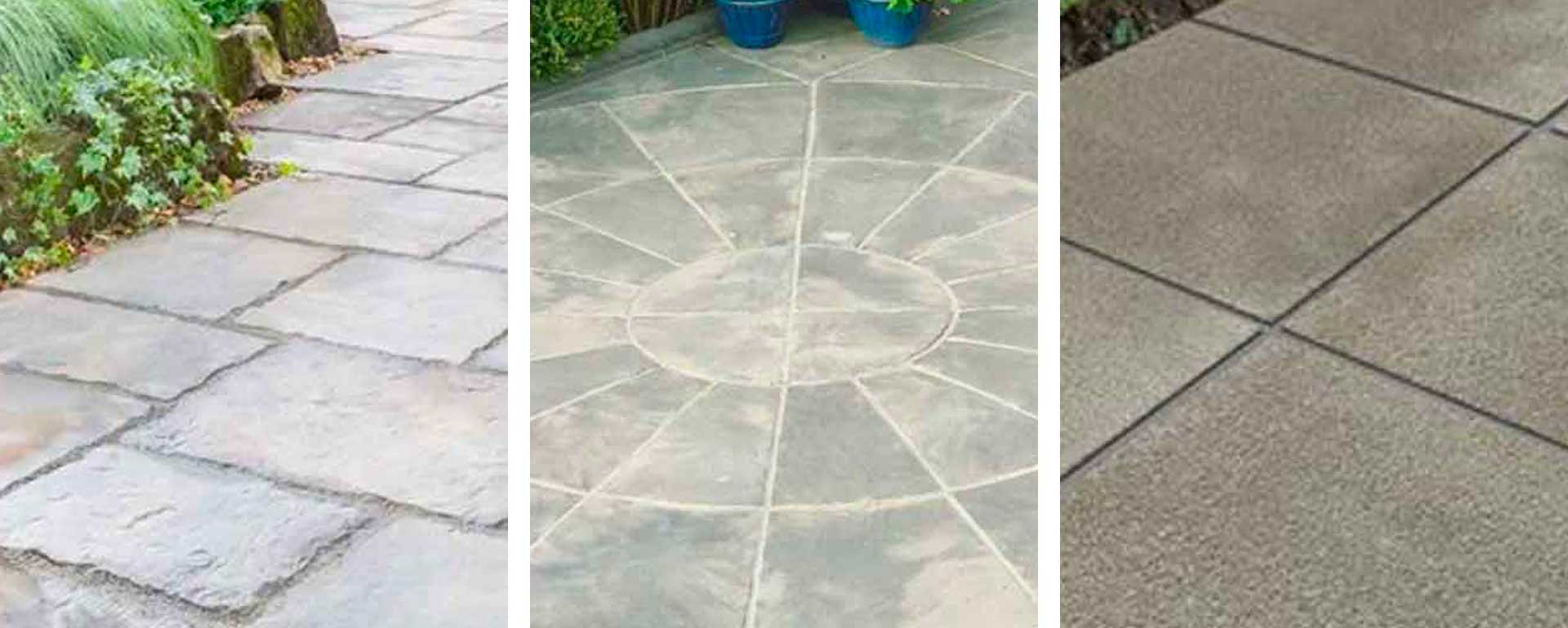 FREE  NO-OBLIGATION QUOTE
Enter your details and we'll call you right back
What are slabs so much cheaper?
Although there are many different types of concrete surfaces the most common is the slab, this is the plain grey tile that can be supplied in a variety of sizes.  The production costs of this type  are vastly lower than other surfaces or tiles and this is where most of the savings are made. 
Although there is very little change in the preparation phase and type of sub-base needed, the cost difference of the slab itself is so vast that you can clearly see the value in them if you are looking for a quick and cheap patio.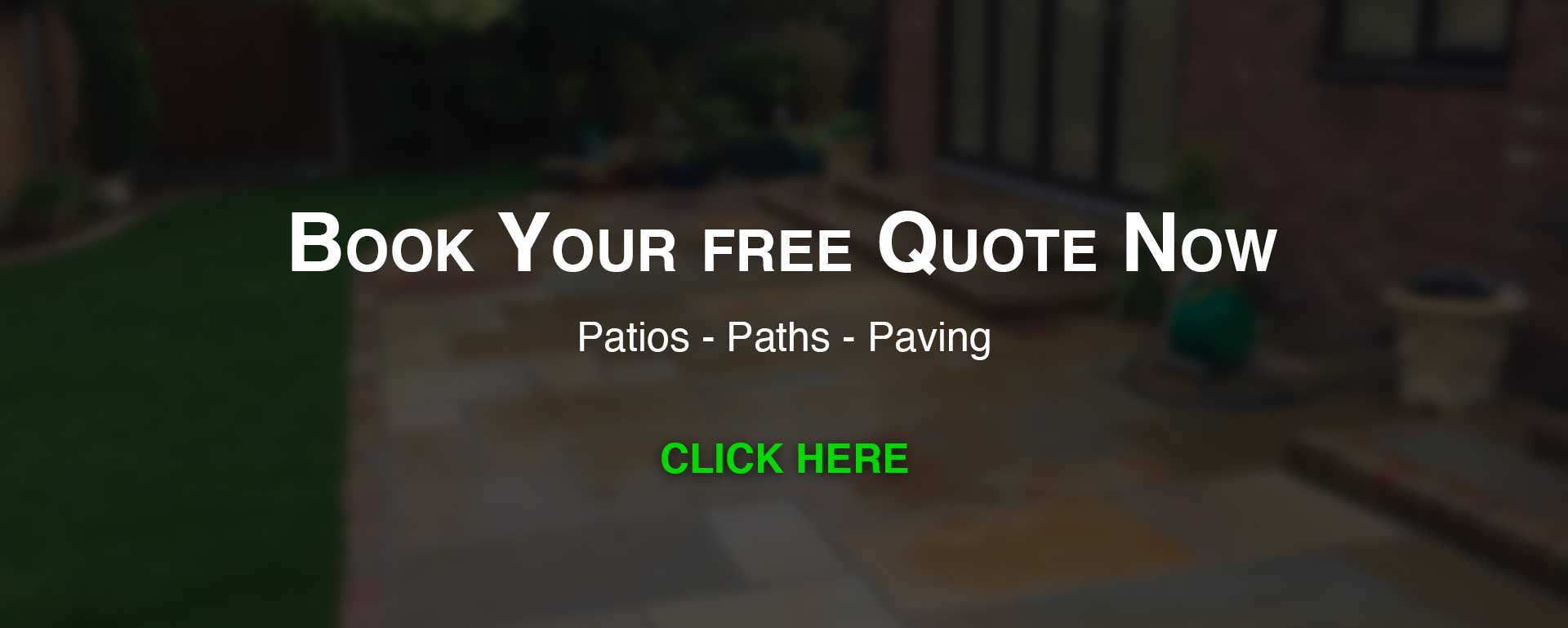 Fill in the form below to schedule a FREE quote.
Concrete slabs and decorative surface types.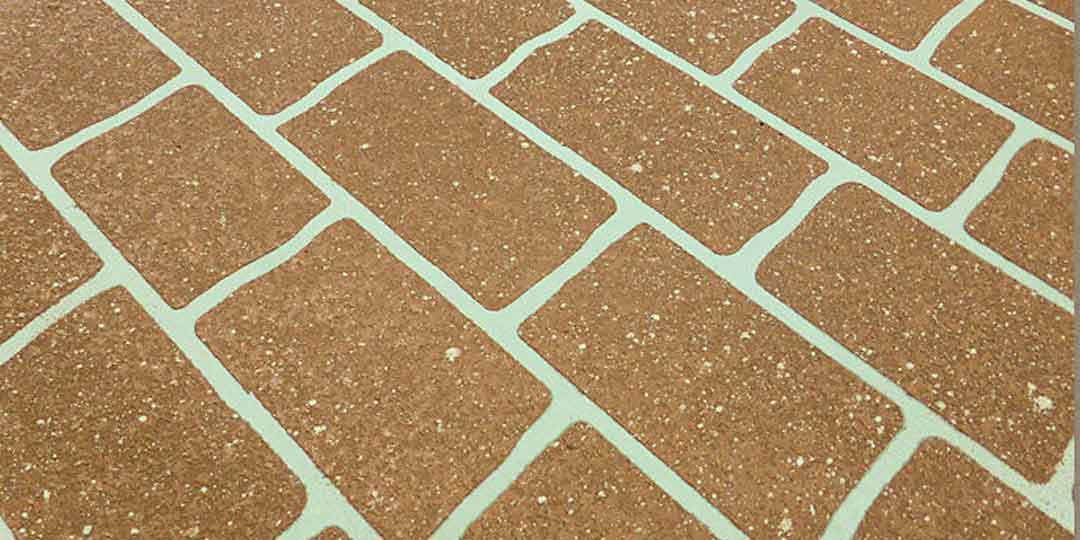 Decorative Concrete Stencilling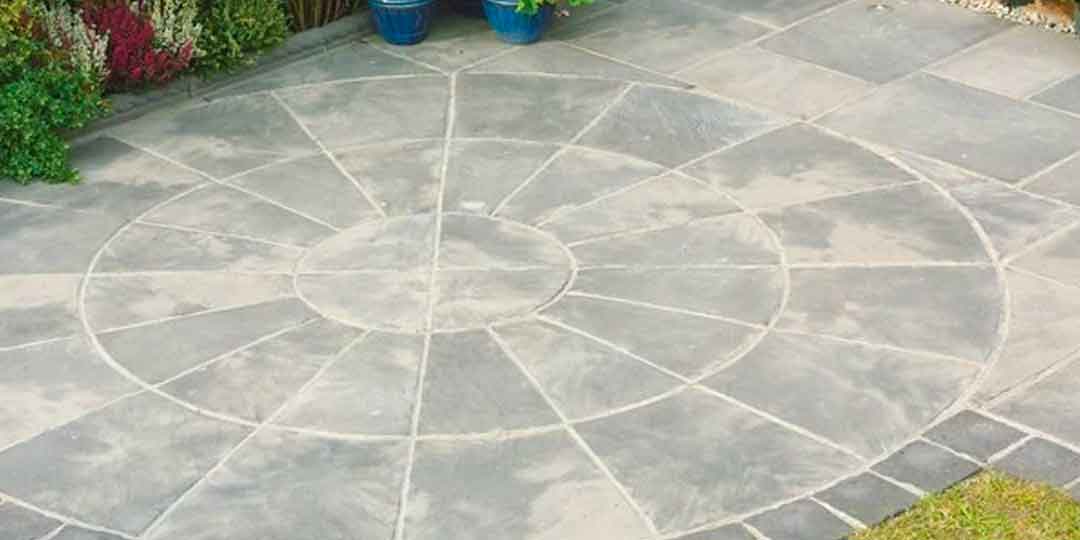 Old Riven in Autumn Silver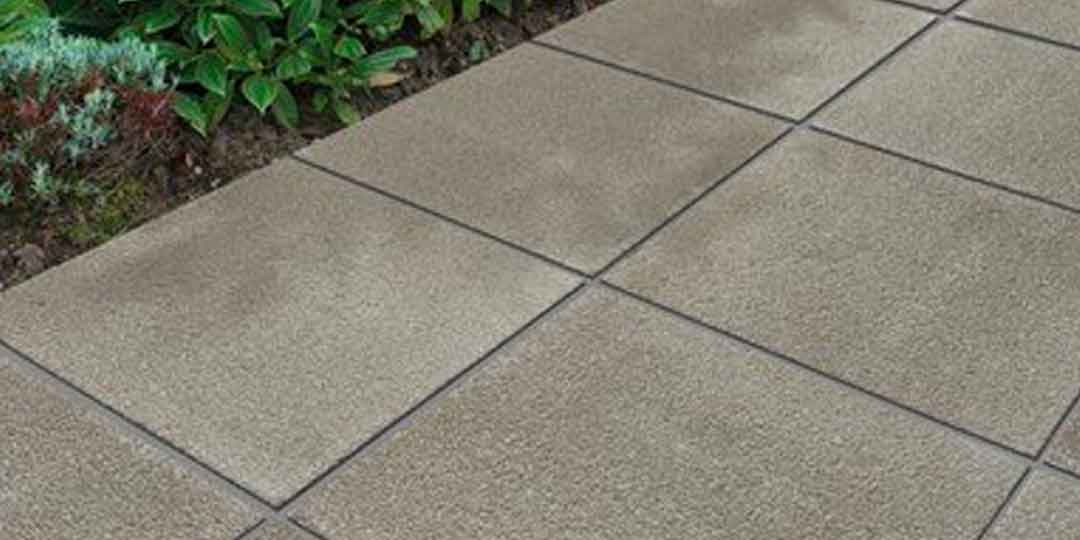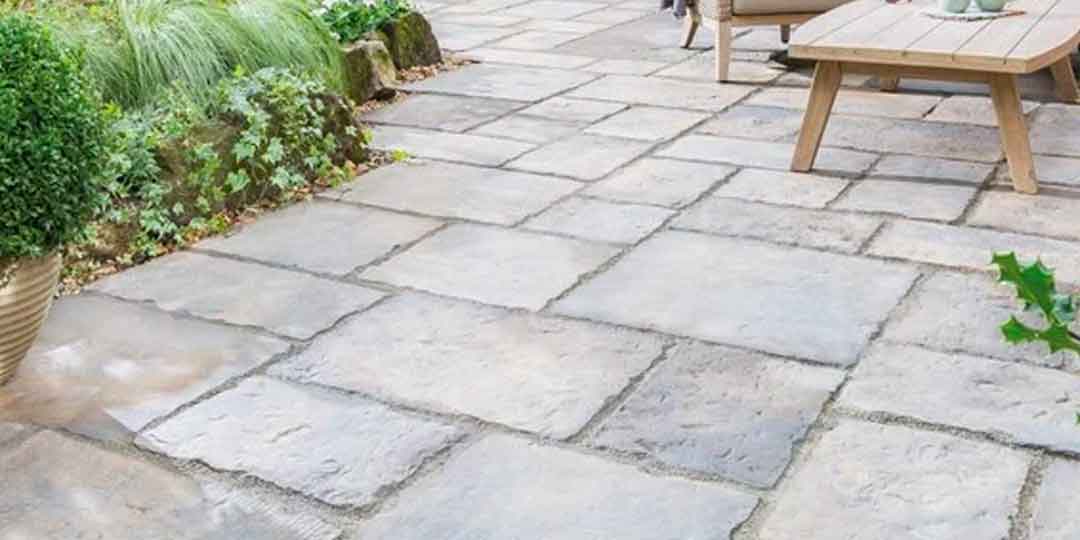 What is the difference between the various concrete paving styles?
Concrete Stencilling
Stencilling is done after the concrete has been poured and finished, in comparison to the stamped effect, stencils are much easier to work with and this results in a noticeable difference in cost. Stencils can be created off-site and this means larger areas can be done much quicker as works do not have to content with the weather as much. Stencilled concrete worked best when you are trying to create a stable surface for outdoor furniture.
Old Riven
Old Riven is a perfect product when looking to create an affordable patio area that doesn't loose the authentic touch. With straight sawn detailed edges inspired by nature, this slab is pre-made in a factory using various modes and shipped in packs like most patio tiles. The moulds used are made to reflect stone taken directly from a quarry giving your garden a unique look that is more reminiscent of a roman garden.
Concrete Slabs
Notoursly hardwearing and often associated with a budget option concrete slabs are actually available in a wide variety of design and colours. Made using a mix of stone, sand, cement and water and left in a mould to cure they really can be turned in to almost any style. From the common grey slab that is budget-friendly right the way up to a cobble effect there will no doubt be something for you should you want to consider slabs. 
Old Town Paving
Made using almost an identical manufacturing process to Old Riven, OTP better reflects York stone and gives your garden a classic look.
Pattern Imprinted Concrete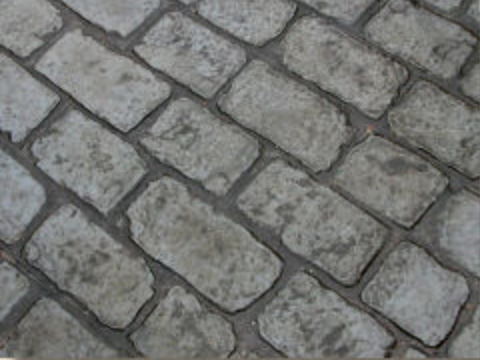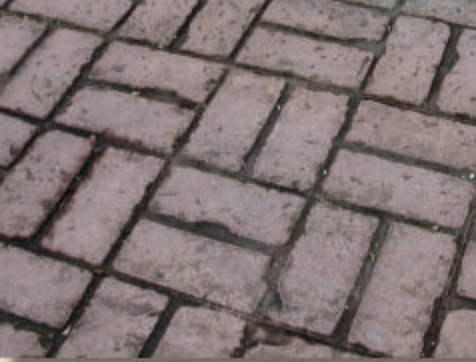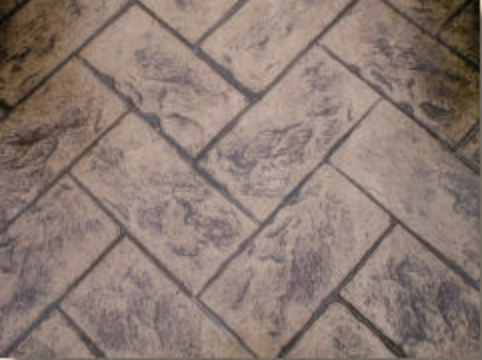 What are the benefits of patter imprinted concrete (PIC)? 
When done right, there are many benefits to choosing pattern imprinted concrete over more traditional options. The technique is increasingly popular with homeowners and businesses alike that looking for a great finish without the upkeep or cost.
Using best practices and the correct equipment PIC looks very attractive and needs almost no maintenance apart from the odd sweep and re-application of the sealant every 2-4 years. The decorative concrete can be installed almost anywhere and is ideal for patios, driveways paths and much more.
Couple this with the various patterns and colours available, the fact that it eliminates weed growth and the easy upkeep it's easy to see why Pattern Imprinted Concrete is such a popular choice.
Will my concrete patio crack? 
It's often the first image that pops in to peoples heads when we talk about concrete as a material option, the tired old patio at a friends house that is cracked. The truth is unless something unusually heavy is dropped on it from a height the only reasons your patio will crack is due to poor workmanship. The most common reasons are:
Excess water in the mix.
Rapid drying of the concrete.
Improper strength concrete poured on the job.
Mistakes are made by inexperienced teams or cowboys that are trying to cut corners, all of landscapers and operatives are fully trained and there is always a senior member of staff overseeing a job to ensure everything is done to a high standard.
Why a good subbase is critical for your patio.
How the ground below your patio is prepared is paramount to ensuring that you have a beautiful outdoor space for many years to come, creating good subbase is no different to setting good foundations before you build a house. You simply can't do it any other way. So starting from the bottom up, here is what is a subbase made up of:
Subgrade—this is the native soil (or improved soil), usually compacted
Subbase—this is a layer of gravel on top of the subgrade
Base (or base course)—this is the layer of material on top of the subbase and directly under the slab
A sub base and base course, or both, provide several good things. The thicker the subbase, the more load the slab can support, so if there are going to be heavy loads on the slab-like cars and vans, a thicker sub base is needed.
A uniform level is critical across the whole area.
The whole point in the subbase and base system is to provide support for the concrete, when compressed it's amazingly strong but when put under tension concrete will break easily. That is why it's vital that the final level is perfect, this will allow water to flow in the right direction (also known as the fall) and ensure there is no tension in the final patio.
How to maintain your concrete patio.
The patio is laid but now you want to keep it looking brand new for years to come, Spring might a week or two away and you are looking out of the window thinking about all the jobs that need doing in the garden. Seeing to the plants and pruning shrubs is second nature but cleaning the patio, is it really as easy as the other jobs?
 The good news is it's probably the most simple job that you face in your garden. You don't need to clean it every time you use it we have had more than one customer ask that), in fact it's just a case of a little TLC throughout the year and a good scrub each spring.
Throughout the hotter months and cooler evenings when you find yourself using it more a quick sweet every now and again can go a long way, it only takes a moment and makes the spring clean much easier.
Come Spring you will want start to think about bringing out the garden furniture again and it's now time to give the patio a big clean, luckily for you a concrete patio doesn't require much. A stiff broom or outdoor brush (you can pick these up from your local garden centre or DIY store) and warm soapy water is usually all that is needed.
It's generally not recommended that you use a jet wash, as tempting as it might be. This method can be too aggressive and may damage the surface of the patio unless done professionally.
 You can look at specific cleaning solutions but if you are ever unsure, it's always recommended that you check with the manufacture first.
Fill in the form below to schedule a FREE quote.
Pros and Cons when considering a concrete patio.
Pros:
Durability
Though it can crack, which we will talk about in the cons, a rule of thumb is that poured concrete is extremely strong and will last for decades. Unlike Indian Stone or other materials, concrete slabs wont shift as there is no joint to weaken and over a large area the addition of rebar will make the pour even stronger!
Design
As we have already covered there are countless design options and colours available. This means no matter how large of an area or how awkward the shape, you will be able to get the patio you want. With very little effort you can create a patio that is unique to your garden and complements the colour of the brickwork on your house.
Low Maintenance 
A brush, hot soapy water and a little bit of regular TLC is all you need to keep your patio looking brand new. It's really as easy as it gets.
Cost & Instillation 
Decorative concrete is faster and easier to install than any other type of material. Even if you hire professionals, the ease of installation is one reason why concrete is more economical than other materials. 
Cons
Cracking & Repair
Cracks can be costly and difficult to repair, sometimes requiring a major portion of the patio to be torn up and poured again. Matching decorative concrete after a repair can be frustrating and expensive and continuity may be impossible to achieve.
Saftey
Concrete can be slippery when it gets wet, so it may not be the best choice in areas where frequent rain or heavy morning and evening mists occur. Adding aggregate to the mixture or choosing a texturized design will minimize the concern. If cracks or chips go unrepaired they can pose a serious trip hazard.
It's not the real thing
 As good as it looks, stamped concrete or other forms of the decorative patio are will never look exactly like the real thing. They are what we refer to as "as good as" products but it is important to note that there will be instances where it is obvious it is concrete and not the real thing. There is no substitute for the raw material, just a looks like effect.
FREE  NO-OBLIGATION QUOTE
Enter your details and we'll call you right back
Stunning Landscapes
25 Hamer Street,
Bury,
Manchester,
M262RS